Is Your Website Listed High On Google?

Cabinet Makers Office provides solutions to some of the woodworking
industry's biggest problems.
"We moved the Research Development into an active cabinet shop. We now see first hand
what the day-to-day industry issues are and directly develop CMO software solutions!"

- Craig Friesen, CMO Chief Operations Officer.
Read on to see how CMO's revolutionary software can provide efficiency solutions for your shop or showroom!

Common Industry Problems:
Most wood working shops grow to the point of overwhelming administrative problems.
See if you can relate to these common problems:

Materials are late because of poor or non-existent tracking.

The shop operates in a crisis mode rather than on carefully planned schedules.

Install dates are changed, sabotaging the manufacturing schedule.

Production efficiencies are near 35%. (how long should it take to make the drawers?)

Administration time / costs are too high! (Too much time is spent fixing problems.)

The responsibility for most of the 85 steps per cabinet job lies on one person.
(Steps get missed & staff are powerless to help.)
Management has little clue whether each job is profitable until the year end!
(No accountability when individual tasks are over the allotted time.)

Material costs are too high because of an outdated "quote" system.

Sales and referrals are miss

ed because of poor client re

lationship management.

Yellow page ad still outdraws non-existent or basic web site.

Bill Coughlin, CEO

Sound familiar? You are not alone!!

Without solving these problems, profits are down and growth is near impossible.

Solutions CMO can Provide:
Cabinet Maker Office software enables management to address inefficiencies in the shop or office.

For example, with CMO software you can:

Track all job tasks, ordered materials and email communications.

Manage all project tasks & communications in one central, accessible spot.

Fix or eliminate problems related to material shortages, equipment failure or other delays.

Reassign tasks that were scheduled for missing staff or previously not completed.

Optimize work schedules and work station capacity.

Share administration with live task lists and progress reports for each job or project.

DETERMINE live-time COSTS for each each project/job/order.

CMOB (revolutionary new feature!) lets you know at a glance where your job is on track and where the delays are! Confidently project your job capacity for days, weeks or months ahead.

Use live data directly from the Job Specification Sheet to obtain quotes from multiple suppliers.

Manage prospective customers with sales staff following an established system.

"Seven years ago we had 12 production staff busy on the floor and losing money.

Since then we have reorganized our operation and with the help of CMO software we are now down to 5 production staff, have increased our capacity by 20% and are on track for our best year ever!"

- Dave, Generation Cabinets

Better adminstrative tools help secure operations and enable growth.
CMO's latest magic bullet: CONNECT the Shop!
Our new Task / Schedule Kiosk (version 2.1) released April 14, 2008.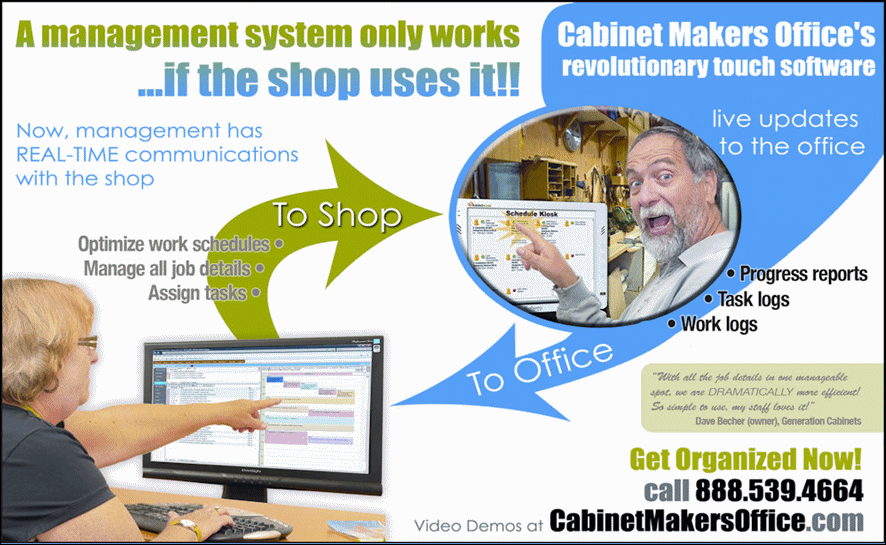 Problem...How to get the shop staff to use the system?
Answer: Make it easy and very QUICK to learn:
With CMO software, Management Systems are functional after only 5 minutes of shop employee training.
With Cabinet Makers Office Task/Schedule Kiosk in the shop:
Staff can clock in for the day;

Start their task timers; (on average:less than 45 seconds total time per shop employee/day for managing 5 tasks.)

Give live-time progress reports back to the office like never before!
Featuring: the new touch screen interface (or use a standard mouse on a regular computer)
CMO software makes it EASY for administration to:
Assign tasks to the shop employees;

Set staff work schedules;
It is also VERY EASY for the shop employees to: (using a regular laptop computer connected to a touch screen)
Clock in on their work schedules (2 finger touches or mouse clicks in less than 5 seconds);

Start and time their current task (1 finger touch or mouse click in less than 2 seconds);

View comments for each task.
Later, after the first task is completed, shop employees can:
Start the next NEW task (1 finger touch or mouse clicks in less than 2 seconds);

Give a progress report on the previous task (1 finger touch or mouse click in less than 2 seconds).

Benefits to your Company:
Calculate your labor costs for each manufacturing job or individual task.

Optimize your processes to minimize cost and increase quality.

Identify and manage staff productivity.

Know for the first time you are making a profit on each job!

Schedule ahead to optimize your capacity reducing slow or over-booked periods.

Greater production with same or even less manpower

Show increased profits.

Make your business saleable.

Allow key personnel to take some time off without the company falling to pieces.
Your Call to Action:
We believe a successful cabinet shop should be doing $250,000 - $400,000 revenue per shop staff .

Are you ready for some help managing your business?
Call us Today at 1-888-539-4664
Number of visits on this page: 36,853. Number of visits on this site: 692,913.